GRP Roofing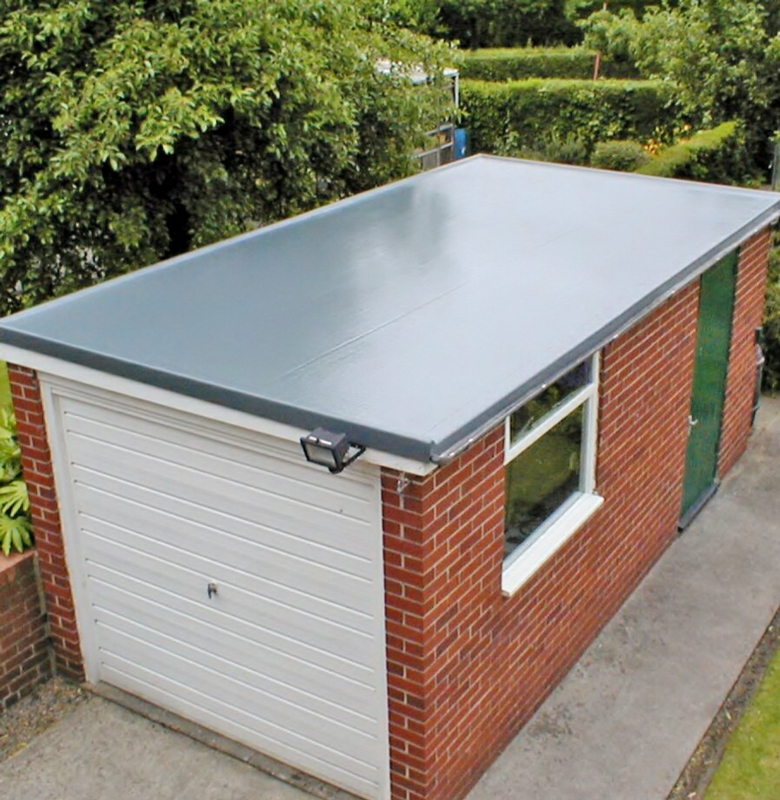 What does GRP mean in Roofing?
GRP stands for 'Glass Reinforced Plastic'. It is a material made from a polyester resin. This resin is reinforced by chopped strand mat glass fibres to create a GRP laminate.
Glass fibers have been produced for centuries. But mass production of glass strands was accidentally discovered in 1932 by Games Slater. When he directed a jet of compressed at a stream of molten glass and produced fibres.
Unlike the glass fibers used in insulation. For the final structure to be extremely strong. The surface of the fiber's must be nearly 100% free of any defects. This means the fibers can reach gigapascal tensile strengths.
The reason for the popularity of GRP in roofing is due to both the extreme strength of the material and its ease of handling. It's realtivlly easy to handle due to being surprisingly light.
Why Choose GRP Flat Roofing?
A fiberglass flat roof is one of the most popular flat roofing solutions in the UK.
The installation of GRP roofing system is safe, simple and effective. The finished product is both aesthetically pleasing and long lasting. Coming with long guarantees. It performs significantly better than other roofing solutions such as felt.
How to install a GRP Fiberglass Flat Roof?
High quality roof decking is laid on the roof.
Specially made edge trims and drip trims are installed to the edges of the roof.
Make sure the roof is completely dry.
A layer of catalysed resin is applied the roof decking.
A layer of fiberglass matting is laid.
Another layer of catalysed resin is applied to complete the roofing system.
Once the resin has cured. A fire retardant top coat resin is applied to make the roof 100% weatherproof (this always gives the roof an attractive finish).
How long does a GRP Flat Roof Last?
If installed correctly by qualified tradesman. And looked after responsibly. A GRP flat roof should last for at least 30 years without any problems. All GRP roofs installed by Brentwood Roofing HQ come with an iron clad guarantee.
GRP Roofing Cost per m2
The cost of any GRP roofing system will depend upon whether an existing roof is being repaired or if a new roof is being constructed.
Obviously, a new roof will cost more than an existing one being repaired.
The area of your roof, the amount of tradesman needed to conduct the work, the amount of alterations required and the need for any structural repairs all play a factor in the cost of a GRP roofing project
Given the superior performance of GRP roofing in comparison to other systems such as felt. The price for GRP fiberglass roofing is higher. However, when you consider the life span of a GRP roof alongside a felt roof you will see the cost per year of a GRP roof is very favourably priced in comparison to a felt roof
Not only does the longevity (30 years+ lifespan) of a GRP roofing system make it an attractive option. It also needs hardly any maintenance, has an attractive laminated finish and is completely weather resistant.
What is the Cost per m2 of GRP Roofing?
You can expect to pay roughly between £70 and £100 per square metre for a GRP roof. This price can vary slightly throughout the year. All of Brentwood Roofing HQ new GRP flat roof installations come with an iron clad guarantee meaning you pay nothing to fix something if it goes wrong.
How does GRP Fiberglass Roofing Compare with Other Flat Roofing Systems?
As mentioned above the initial cost of GRP roofs is more expensive than other roofing systems. But compares favourably when compared over the roofs lifespan.
The reason for this is fiberglass roofing benefits from some advantages that most other roofing systems cannot compete with.
It is both a lot more durable than traditional felt systems and significantly safer. It is safer because with GRP there is no need for any open flame tools.
Fiberglass flat roofs also benefit from there being no need to have joints on the main part of the roof. This gives a more attractive appearance and decreases the probability of any water penetration the surface and reaching the decking. GRP has fantastic waterproofing properties, best illustrated by its frequent use in the manufacture of boats and yachts.
The top coat finish of GRP roofing makes it resistant to all types of weather. Fiberglass roofs will retain their form and function in the face of the intense sunshine, severe snow, heavy rain and even fire.
The durability and strength or GRP mean it can cope with footfall making it an ideal surface for a roof terrace.
GRP Roof Maintenance
GRP flat roofs are very easy to maintain in comparison to other roofing systems. All you need to keep a fiberglass roof in top condition is to give it a brush and a hose down every few months. And it will continue to protect your property effectively.
Would you like more information about GRP Roofing?
GRP Roofing Video